New Store Opening – Apple Aventura
Client: Apple
Designed by: Futura

Role: Positioning, Creative Concepts, Copywriting
In summer 2019 Apple opened its largest new flagship store in the South East. Miami's Apple Stores are consistently ranked in the top three highest grossing locations in the US. To meet the growing demand, Apple launched a new mid-century inspired pavilion in Aventura, Florida. My role was to help position and develop the concepts, themes, messaging, and design for the opening and its surrounding programming.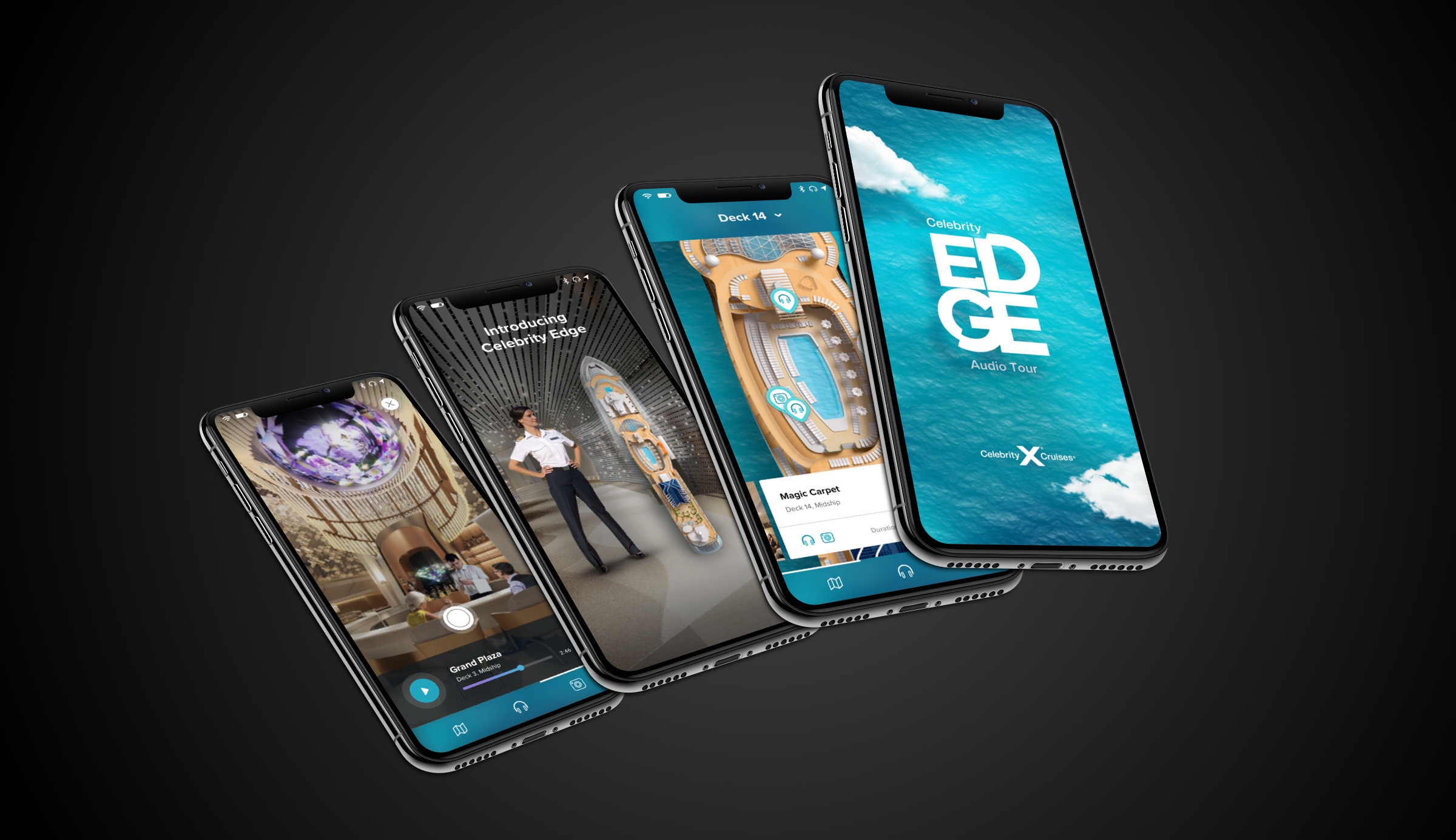 Celebrity Edge Access Tour App
Client: Royal Caribbean Innovation Lab
Designed by: inside.company

Role: Creative Lead, UX, Design
Copywriter: Liz Marks
AR Production: Trigger
Celebrity Cruise Lines was looking for an innovative way to introduce their most technologically advanced ship ever to a new generation of tech savvy luxury travelers. The Edge Access Tour offers guests a personalized guided tour of the ship's state-of-the-art amenities, restaurants, and entertainment. 3D binaural audio recordings, brought to life with a 3D AR cast, and RFID beacon technology make for an engaging and immersive experience.
Save The Food
Client: The Natural Resource Defense Council
Created at: SapientRazorfish

Role: Executive Creative Director, Creative Lead, Copywriter
Film Director: Martin Stirling
Production Company: Partizan
The NRDC tasked us with raising awareness about food waste and encouraging Americans to take steps to reduce food waste in their homes. The Save The Food pro-bono campaign received over $65.5 million in donated media in 2018. The Strawberry film has been viewed over 21 million times. And food waste awareness is higher than ever.
The Incredible Life and Times of Strawberry
Envoy is a tech startup working to reinvent the workplace experience. They needed a vision piece to help tell the story of the workplace of the future.
Created at: inside.company
Role: Branding, Identity Design
Photography: Carlos Ricci
3D Artist: Simon Potter
I've loved anything on two wheels for as long as I can remember. Riding around on summer nights as a kid on a bmx bike is my first memory of freedom. That love of bikes stayed with me and in 2018 I helped launch GTM. My role included product design, marketing strategy, copywriting, design, and PR. Our launch efforts got the brand on the front page of cycleworld.com and started a global enthusiast following. You can check out the full article here.
Brand Identity, PR, & Social Media
Grey Goose
Created at: SapientRazorfish
Role: Executive Creative Director, Creative Lead
Co-ECD: Rob Kleman
Art Director: David Iglesias
Film Director: Irv Blitz
Print Photography: Wonnacott
Grey Goose was looking to activate their new brand position Fly Beyond with a millennial audience. We created an integrated experiential program that included broadcast, billboards, digital ads, influencer partnerships, and social media contests, which resulted in 300 million impressions and +70% increase in social engagement.
Gifting online influencer promotion
The Miami Heat Mobile App
Webby Award – Sports Mobile App

Created at: SapientRazorfish
Role: Executive Creative Director
The Miami Heat were looking to modernize their end-to-end fan engagement experience. We created The Miami Heat App as the ultimate fan engagement platform. With ticketless check-in, cashless concession payments, real-time stats and scores, and post game content, it set the bar for NBA mobile apps. The Heat now makes more mobile revenue than every other team in the league combined.
Education on Tour
Created at: Jack Morton, San Francisco

Role: Creative Lead
Designer: Christen Dute
Illustration: Krystal Lauk
Google is committed to helping expand learning for everyone. The Google for Education program helps provide students access to world-class computing with Chromebooks. I was the creative lead helping launch the global tour in 2018 through experiential and event marketing.
adidas digital
Created at: 180 Amsterdam / RIOT
Role: Executive Creative Director
Creative Director: Todd Bois
Designers: Nadége DeCastro, Matthew Steenburg
Producers: Peter Bassett, Carissa Ranelycke
I led the 35+ person digital group for adidas. We were an always-on, constant-communications team of creative technologists, content creators, and producers tasked with handling all digital marketing for adidas globally. The model we developed has become the standard of today's digital marketing landscape – with a strong emphasis on high-volume, fast-moving social content, and bite-sized multi-channel digital narrative. The project culminated in the 2010 World Cup in Johannesburg South Africa.
Redesign every sports vertical for adidas.com including: Running, Basketball, Football (Soccer), Women's Fitness, Stella McCartney.
adidas Match Ups is a first-of-it-kind second-screen experience in social that allowed fans to make game predictions for each World Cup match, and then view and share outcomes in real-time as games unfolded.
Match Tracker takes live player data from the field and visualizes it as a second-screen experience designed to allow fans and players deeper insight into the game.
Brand Relaunch & Digital Transformation
Client: MetLife
Created at: Crispin Porter + Bogusky

Role: Creative Director
Writer: Taylor Marsh
Art Director: Alexandra Sobiecki
Design: Julien Tauban, Aaron Willard
UX: JoRoan Lazaro
Technologist: Robert Christ
The 150 year old American brand needed a relaunch for a new generation of customers in the digital era. We embraced the the timeless appeal of the brand's mascots – Charles Schulz's Peanuts – and brought them into the digital age. The campaign launched with a Super Bowl spot and included a second screen social media event, a homepage takeover on NYTimes.com, the relaunch of Giants Stadium to MetLife Stadium, a full redesign of Metlife.com to include new digital tools, and even a redesign of the livery for the iconic MetLife blimp.